by poedgirl on 27/08/09 at 12:56 pm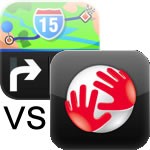 A couple of weeks ago, I reviewed Navigon vs Sygic. Today, I decided to give the new heavyweight in the arena, TomTom, a good test. Seeing as though Sygic won the first round, I thought I'd pit it up against TomTom.
I have used and loved the TomTom application on Windows Mobile, and the standalone TomTom devices are pretty good. The same, however, can not be said for the iPhone application. A lot of features are missing from the iPhone version. These include lane guidance and a lot of the customisation options.
One of the major problems I have with TomTom on the iPhone is the complete lack of customisation. On the Windows Mobile and standalone versions, you are able to customise a whole boat load of things. On the iPhone, you are limited to just changing the voice (which you have to hack to get custom voices on), planning options and distance units. On Sygic, you are able to customise everything from signpost settings to complete customisation of the display.
In my test of TomTom, I was really annoyed that while driving along the freeway, I had no idea which exit I was supposed to take. It would be easier if I knew the name of the exit, however it just told me how far it was. Sygic, on the other hand, tells you exactly which exit and the sign to look out for. Definitely a plus for Sygic there.
One of the biggest features in the TomTom standalone devices is the lane guidance feature. This is a 3D representation of the road and which lane you are supposed to be in. This is completely missing in the iPhone app. At least Sygic has a little display in the bottom left of the screen showing the lanes.
The funny thing is, for an application that attempts to look like TomTom, Sygic has actually come out on top of the big rival. Sorry TomTom, unless you add all the features you have in the standalone devices, you have lost this one.