by poedgirl on 10/08/09 at 1:59 pm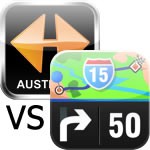 Today, I decided to test out the newest addition to the iPhone turn by turn navigation application arsenal, Navigon. Of course, I already had Sygic installed on my iPhone and I had been using it for a while. I was happy with Sygic, but there were a few features in Navigon that I really wanted, such as proper lane guidance, so I decided to give it a go.
If you've ever used Tomtom before, you'll know the familiar interface, the information all in the blue bar at the bottom with the map in the center. This is the same interface Sygic has, and it works well. However, Navigon has a completely different, and in my opinion, useless interface. The problem is that there really isn't enough information on the screen at any one time, and this can't be changed. While it does try to look like any other iPhone application, it does this in a way that is counter-intuitive for a navigation application. Someone who is driving wants the pertinent information on the screen whenever they need to glance over at it, something this app just doesn't display.
The interface aside, onto the app itself. Sygic offers a boatload of configuration options. Navigon? almost none. I couldn't even figure out how to enter my home address, the only way I was able to enter it was to tell it to take me home then it asked me to enter it. What happens when I move? Do I need to reinstall the app?
Now onto navigating. Sygic does have some quirks here, such as telling you to go through a carpark instead of staying on the road. However, Navigon has way worse ones. In my testing, the worst one (there were a few) would have to be the voice instructions. The problem is when it notifies you of an upcoming turn. It does this by saying for example "Turn left… in 400 metres." The main problem with that is the pause in there between the "Turn left" and the "in 400 metres." Many people will think it is telling them to turn left now, then once they are already in the process, it says "in 400 metres." Pretty stupid idea if you ask me.
There were also a few errors with the map data itself. In the small time I was testing Navigon, it managed to have 2 errors. The first error, it didn't allow me to select the number for my house, it allowed me to select next door (either side) and across the road, but not my number. The second error was when I was on a street called "Stoneham St", Navigon said I was on "Stoneman St". This was just a short time testing so I hate to see what else is wrong. Sygic has had perfect data accuracy in all tests so far.
My advice is to not buy Navigon if you want a decent iPhone navigation service, Sygic is currently the best one available for Australians. Of course, Tomtom is also on the way so if you want to wait for that, it is highly anticipated to be the best navigation app on the iPhone.