by poedgirl on 06/07/09 at 1:23 pm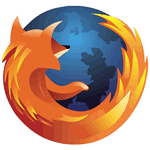 Today, I decided to test out a new feature of Mozilla Firefox 3.5, the Geolocation system. Now, I have to say, using a mobile phone with Google's Location Services is actually pretty accurate – within a few hundred metres. But it would appear it is not the same for fixed connections. Even when connected via WiFi, which is supposed to provide more accurate results.
Most of the people who read this will know I live in Perth, Western Australia, but don't know exactly where. It seems neither does Firefox:
To me, this is pretty useless. If I were to use something like Google Maps with this and type in, for example, Pizza. I would be returned hundreds of results from all over Perth. I honestly can't see a use for it.
One thing that would make it useful, however, would be to allow you to add a GPS sensor to it. I have one of these in my car, for use with my CarPC. Using a GPS sensor would make the location service extremely accurate and more and more web enabled devices are getting GPS technology in them. Tapping into Windows 7's sensor API could also be another way to get the info.
Using WiFi and IP address locations really isn't the way to do this as it is highly inaccurate.