by poedgirl on 20/03/09 at 10:38 am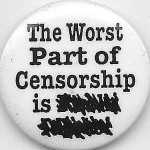 After reading about the ACMA blacklist leak (and inspecting it myself – no, I won't link to it as this blog is hosted in Australia and I could face $11,000 fines per day), it seems pretty obvious to me that despite what Senator Stephen Conroy says, it is in fact the ACMA blacklist. Just think about it, why would the ACMA be trying to get the federal police involved if it wasn't the actual blacklist? This seems pretty obvious to me, but it has somehow escaped everyone else's judgement.
Speaking of the list, I personally believe it should be public. I mean how the hell else is a website owner supposed to know if their site is on the list? There are several legitimate businesses on that list including a tour operator, a boarding kennel and a dentist. If the past few days are any indication, anyone with an agenda can get any site on the list. I have to say I'll never be voting for any party that has Stephen Conroy in it again after this debarcle.
More Info: Leaked blacklist irresponsible, inaccurate: Conroy